Filtration Solutions for Oil & Gas - LNG, CNG, Refinery, Pipeline, Offshore/Platform
For almost 30 years, Allied Group, Inc. has been serving the Oil and Gas industry.
We have the product line, knowledge, experience and capability to fulfill specific needs for the Oil and Gas industry. Allied Group focuses on Filter Elements, Cartridges and Tubes that Separate Hydrocarbons and Water. We can cross reference other manufacturers, re-engineer and existing filter or design a filter for a specific need.
Phase Separation
Gas Treatment
Water Treatment
Water Filtration
Water Reclamation
Fuel Gas
Terminal Filtration
Final Product Treatment
Amine Sweetening & Tail Gas Treating Units
Sulfur Recovery
Caustic/Amine Treating
Catalyst Protection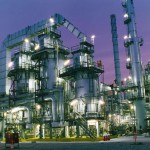 Filters for Plant Support Systems including:
Compressors
Water filtration
Lubrication systems
Instrumentation
Analytical systems
Air Intake Systems
Oily Water Separation
Mobile Equipment
Oil & Gas Segments View our segments below
The upstream part of the oil and gas business is comprised of oil and gas production facilities. These facilities are where hydrocarbons are first recovered in the process. The hydrocarbon fluids produced around the world can vary greatly. Some reservoirs are oil rich, while others may be gas reservoirs that produce a relatively small amount of liquids produced. Others may be largely wet, meaning the majority of the produced fluids are actually water and not hydrocarbons.
Transportation of produced fluids, gas processing, and LNG production is what comprises the midstream segment. The complex system of pipelines, compressor stations and access points move product to endpoint. Gas plants condition natural gas for industrial and consumer use. LNG facilities liquefy or regasify natural gas for economic long distance transport. Pall solutions will help you achieve your throughput, reliability, operating cost and environmental protection needs.
Oil and gas refining process rely on the purity of feed streams for efficient process reactions. Removal of fluid and particulate contaminants from feed streams and fluid recirculation processes is essential for improving refining efficiency. Pall's advanced filtration solutions deliver premium filtration and fluid separation performance for a variety of refining processes such as alkylation, caustic treatment, amine and catalyst recirculation systems, fluid separations, and much more.